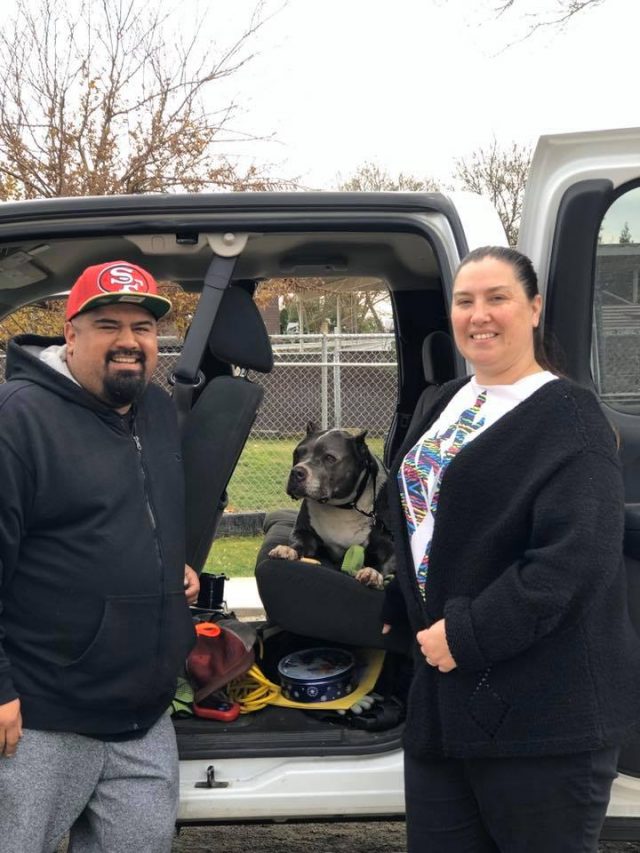 Seamus the pit bull received a Christmas miracle this year. After spending five of his nine years in a Fresno, California resuce shelter, he finally found his forever family.
Fresno Bully Rescue director, Brigette Booth, says they house 40 dogs and have many more in foster homes. She says they're always excited to find good homes for their dogs but there were happy tears when Seamus finally got adopted. They had feared he would spend the rest of his life at the shelter.
The adoption came just in time because as Seamus aged, the cold weather in the winter and heat in the summer was becoming harder and harder on the senior dog.
He will now enjoy a warm home during the coming winter and cool a/c in the hot summer. Along with the love and attention only a family can give.
Workers at the shelter said Seamus will be fondly remembered for his love of donut holes, his habit of taking his time on his walks, and the way he always grabbed a new toy from the crate on his way back to his kennel.
Ms. Booth says this is a reminder that many overlooked shelter dogs still need to find their perfect home. Even if they're older or have special needs they still need love and care and are willing to reciprocate with the same.
If you have questions about adopting a shelter dog just visit your local rescue or Humane Society and find out what is required. An interview is usually required and an adoption fee.
What to Do Next: Download Your Free "So You Think You Want to Adopt a Dog?" Kit
Adopting a dog is one of the most wonderful and rewarding things you can do, but it's not something to be entered into lightly.
Before Making This Big Decision, You need to know:
If adopting a dog is right for you (it may not be)

What type of dog is best for you or your family

What you need to be able to care for a dog
That's exactly why we've created this free downloadable kit to help you make the best decision for you or your family.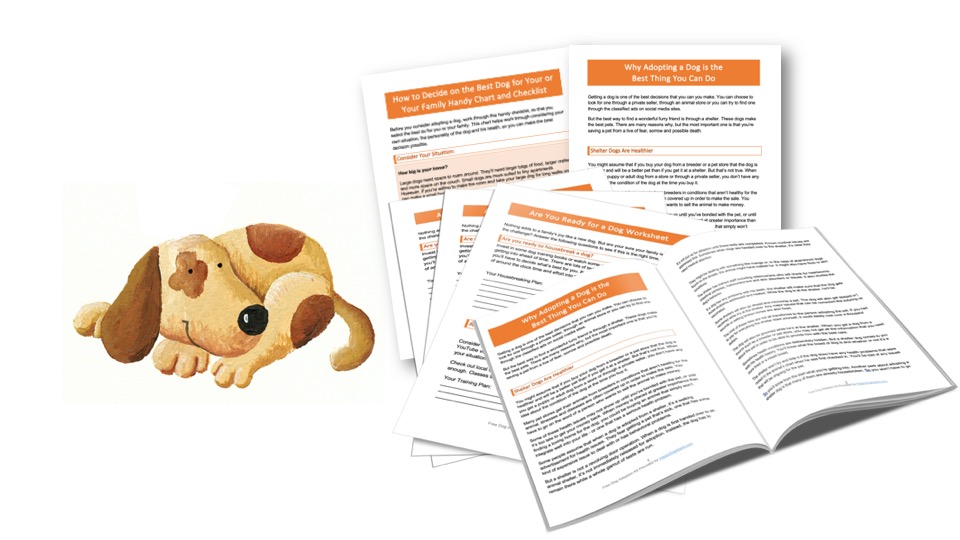 Download This Free Kit for Instant Access to:
Why Adopting a Dog is the Best Thing You Can Do - discover 10 amazing benefits of adopting a dog, instead of purchasing from a breeder.
Is a New Dog Right for You? - Use this handy worksheet to ensure you're ready to welcome a new dog into your home?
How to Decide on the Best Dog for You and Your Family - This checklist will help you figure out exactly what kind of pet is best for you.
Everything You Need to Welcome a New Dog into Your Home - Another handy checklist to ensure you're ready to welcome the newest member of your family.
You can download this kit instantly and it's absolutely free. Just enter your name and email address below.
We'll also keep you up-to-date on tips for your dog, amazing dog stories and products we'd love to share with you.