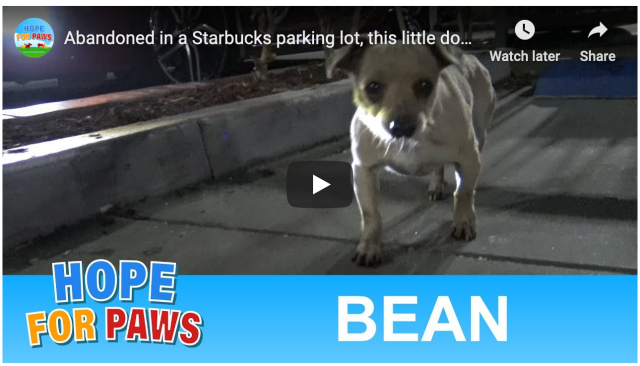 Stories of dog rescues are always heartwarming, and this one is no exception. An adorable little dog was abandoned in a Starbucks parking lot by his owners. He spent the whole day begging for food as people came and went.
Luckily, one of the workers knew of a local rescue called Hope for Paws. She called and they sent someone to save the little dog.
After spending some time letting the dog get to know him and winning his trust, the rescuer was able to place the dog in his car and take him to the shelter. The dog did not have a tag and was not microchipped so his owners could not be found.
At the shelter he was given a bath, food, and medical care.
An Instagram campaign was launched to decide his name. The winner was Bean. An appropriate name for a dog found at Starbucks.
Next a foster home was found so Bean could stay in a loving home until his forever home was found.
To contact Hope for Paws, visit them here.
What should do you if you see an abandoned dog and want to help rescue him?
Approach slowly. You want to assure if he runs from you he will not run into traffic.
If you note signs of aggression do not approach, call a local rescue organization or the humane society.
Get down on his level, do not hover over him.
Small bits of food are usually a good way to win the dog's trust.
If you can, offer him a drink of water, too.
Pet him slowly, but back away at any signs of aggression such as showing his teeth or growling. Petting his side is often better than on his head.
Be patient. Don't try to rush to pet him or pick him up.
See if he has a collar with a tag with the owner's number.
Take him to a vet to see if he is microchipped. If so, they will be able to locate his owners.
If you're not secure in taking the dog anywhere, just call a local shelter.
Try to secure the dog in a safe place so he doesn't run off again. If this is not possible, try to follow at a safe distance.
Keep the number of a local shelter you trust in your cell phone. You can ask friends and neighbors about local rescues or dog shelters or ask in local Facebook groups.
You never know when you might find a wandering dog at your local Starbucks. Your call could save his life.
Here you can find more information on how to help a stray dog.
What to Do Next: Download Your Free "So You Think You Want to Adopt a Dog?" Kit
Adopting a dog is one of the most wonderful and rewarding things you can do, but it's not something to be entered into lightly.
Before Making This Big Decision, You need to know:
If adopting a dog is right for you (it may not be)

What type of dog is best for you or your family

What you need to be able to care for a dog
That's exactly why we've created this free downloadable kit to help you make the best decision for you or your family.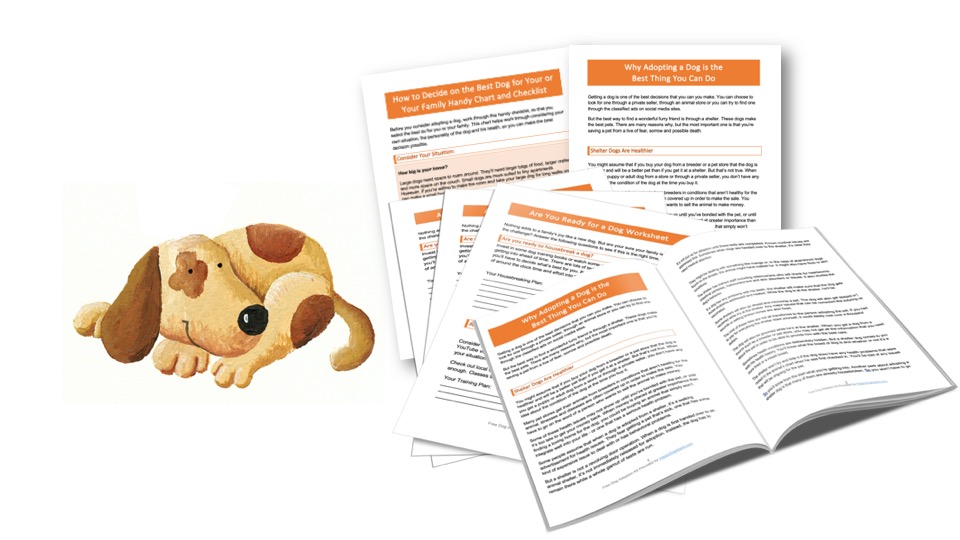 Download This Free Kit for Instant Access to:
Why Adopting a Dog is the Best Thing You Can Do - discover 10 amazing benefits of adopting a dog, instead of purchasing from a breeder.
Is a New Dog Right for You? - Use this handy worksheet to ensure you're ready to welcome a new dog into your home?
How to Decide on the Best Dog for You and Your Family - This checklist will help you figure out exactly what kind of pet is best for you.
Everything You Need to Welcome a New Dog into Your Home - Another handy checklist to ensure you're ready to welcome the newest member of your family.
You can download this kit instantly and it's absolutely free. Just enter your name and email address below.
We'll also keep you up-to-date on tips for your dog, amazing dog stories and products we'd love to share with you.