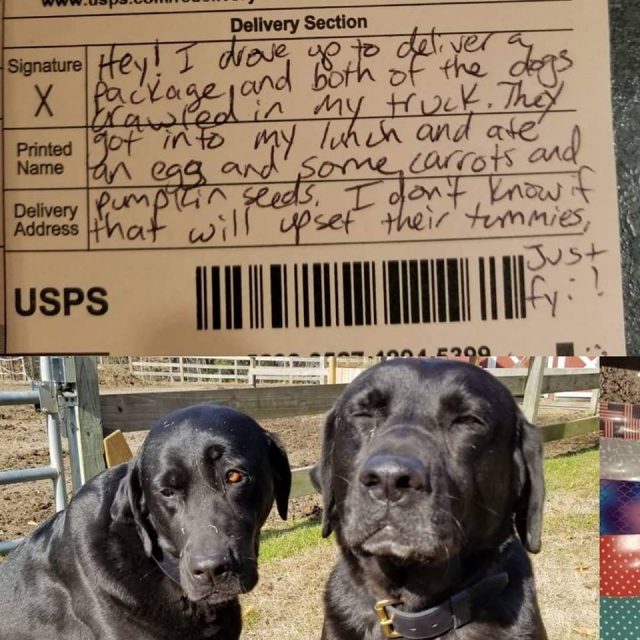 Bull and Bear Jordan are two loving Mastiff-Labradors that love a good snack, by any means necessary. They have been known to ninja loot lunches from visitors to their mom Carol's house.
One time a mail carrier came to deliver a package and the two dogs got into their trunk and ate an egg some carrots and pumpkin seeds.
Seemingly not upset the mail carrier left a note saying the following "Hey, I drove up to deliver a package and both of the dogs crawled in my truck. They got into my lunch and ate an egg and some carrots and some pumpkin seeds. I don't know if that will upset their tummies! Just FYI!"
Though the mail carrier didn't seem upset, Carol was very embarrassed so she sent the mail carrier and apology note with a subway gift card attached this is what the note said "Sorry we ate your lunch. Thank you for sharing! P.S. Our humans said thank you for leaving a note. We didn't like the note. We got in trouble."
So all was forgiven there, but these two bandits were not finished yet. Once when the FedEx deliverer was doing his job Bull and Bear went into his van and sat in the passenger and driver's seats. From stealing food to stealing cars, what a slippery slope hey?
But there may be redemption for these thugs yet, one of Carols friends was delivering a water tank the two dogs inspected the drivers seat and then began to help the friend with unloading the water tank. The friend said this "I somehow think the only thing that intimidates strangers is their size and not their bite."
What to Do Next: Download Your Free "So You Think You Want to Adopt a Dog?" Kit
Adopting a dog is one of the most wonderful and rewarding things you can do, but it's not something to be entered into lightly.
Before Making This Big Decision, You need to know:
If adopting a dog is right for you (it may not be)

What type of dog is best for you or your family

What you need to be able to care for a dog
That's exactly why we've created this free downloadable kit to help you make the best decision for you or your family.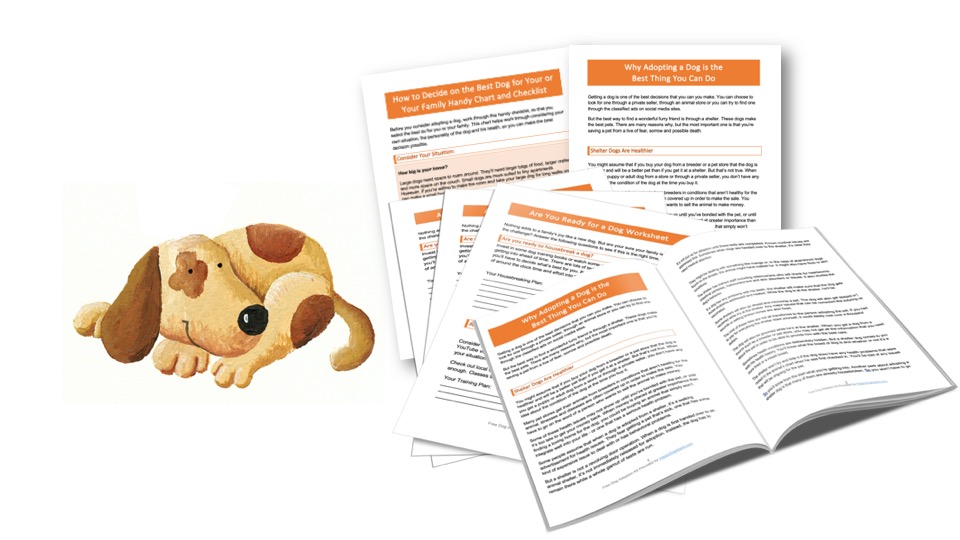 Download This Free Kit for Instant Access to:
Why Adopting a Dog is the Best Thing You Can Do - discover 10 amazing benefits of adopting a dog, instead of purchasing from a breeder.
Is a New Dog Right for You? - Use this handy worksheet to ensure you're ready to welcome a new dog into your home?
How to Decide on the Best Dog for You and Your Family - This checklist will help you figure out exactly what kind of pet is best for you.
Everything You Need to Welcome a New Dog into Your Home - Another handy checklist to ensure you're ready to welcome the newest member of your family.
You can download this kit instantly and it's absolutely free. Just enter your name and email address below.
We'll also keep you up-to-date on tips for your dog, amazing dog stories and products we'd love to share with you.