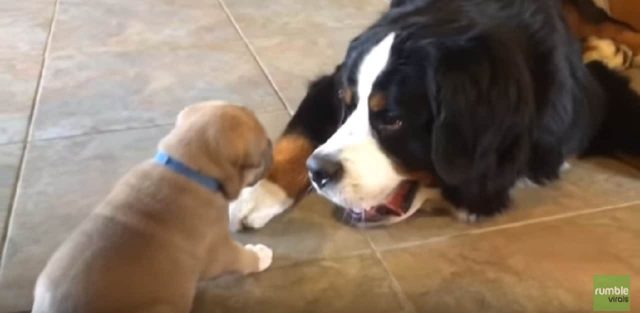 Living in a new place is one of the scariest moments in a person's life, let alone a dog: new home, new people, new faces. With everything fresh in your neighborhood, you wonder how you'll start making new friends.
However, for a little puppy named Gryffin, charming his way into the heart of his new brother is the way.
Welcome to your new home, little Gryffin!
Friendship sometimes blossoms from the most unexpected situations. The boy you thought was a bully's kind-hearted, willing to help anyone in need. The sassy girl selling lemonade in the corner loves welcoming new kids into the neighborhood.
And for dogs, the same scenario happens, though in a completely different way.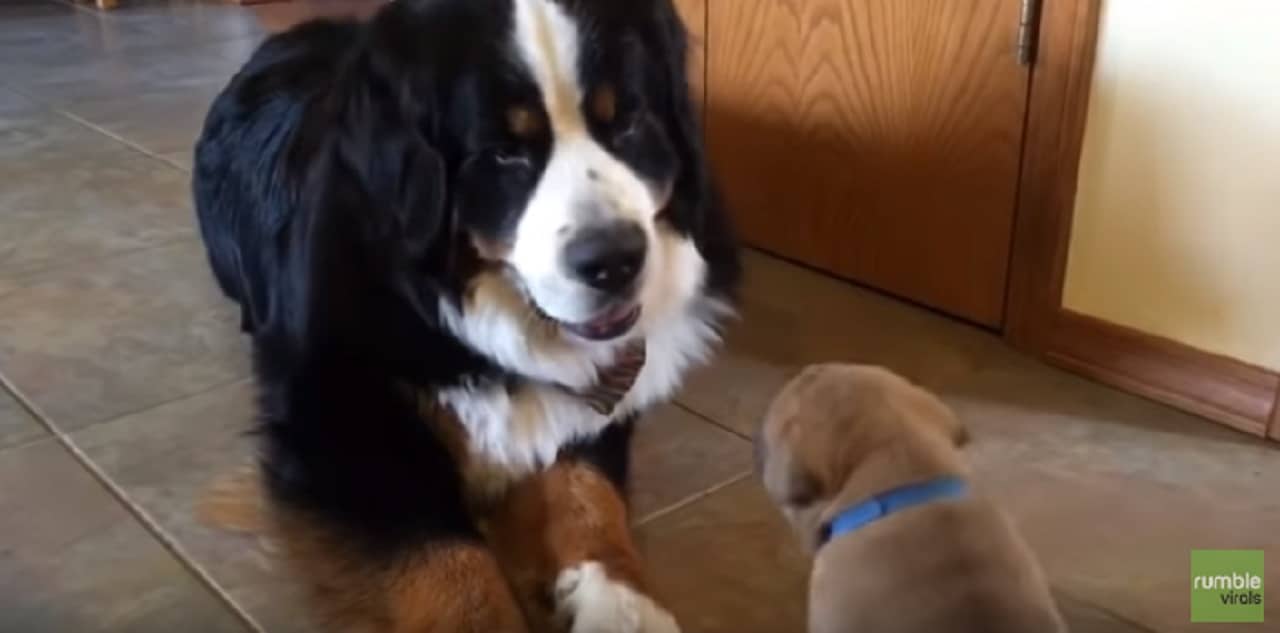 One beautiful day, Gryffin, a four-week-old Staffordshire/Bulldog mix puppy walks into his new temporary home. I say it's temporary as he's going to live from now on with his foster family until someone falls head-over-heels in love with him.
Big brother, can I play with you?
With the curiosity of a puppy, little Gryffin takes everything in his new environment. He starts exploring the house, familiarizing its layout. However, all this exploring can't compare to the moment he laid eyes on his foster big brother, Eiger.
Eiger isn't the typical cute little puppy you see in the household. You see, Eiger is a Bernese Mountain puppy, as such, he's expected to grow to a larger size than most puppies his age.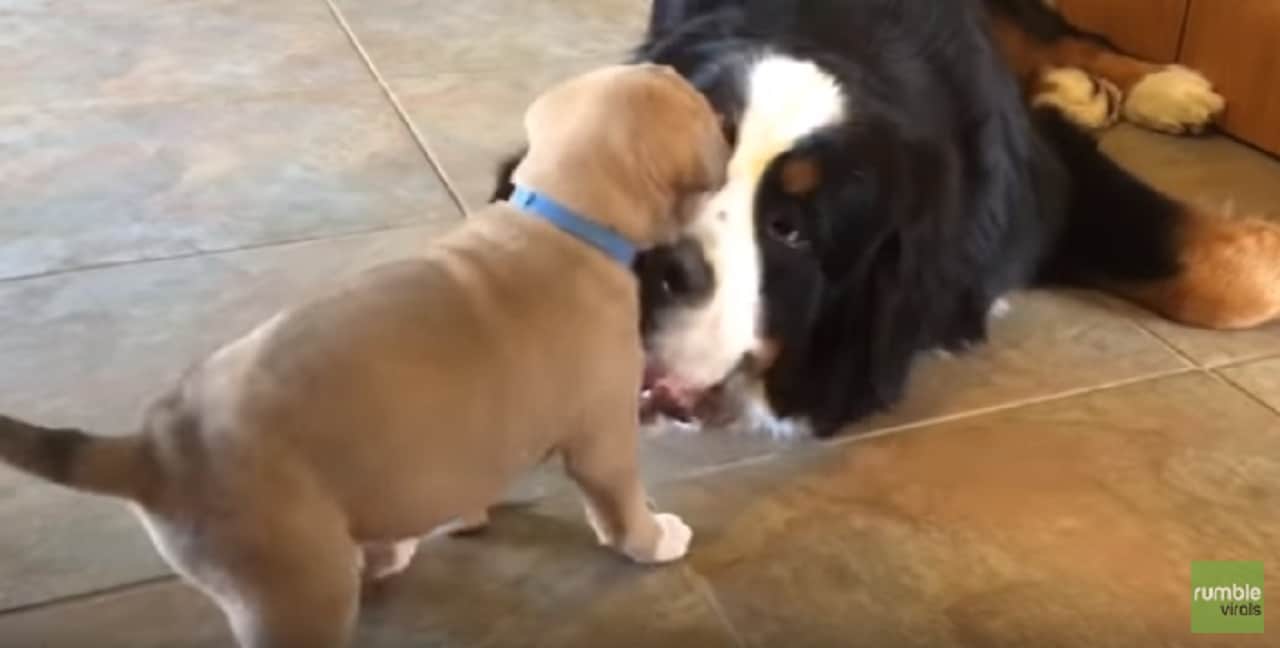 However, Gryffin isn't the least bit intimidated with Eiger's size. Summoning all his friendliness, he approaches Eiger and attempts to indulge him in play through little nips and bites.
Okay, I'll play with you, little one.
Gryffin tries his best to entice Eiger into playing with him. And, to everyone's amazement, Eiger indulges in the little puppy's request.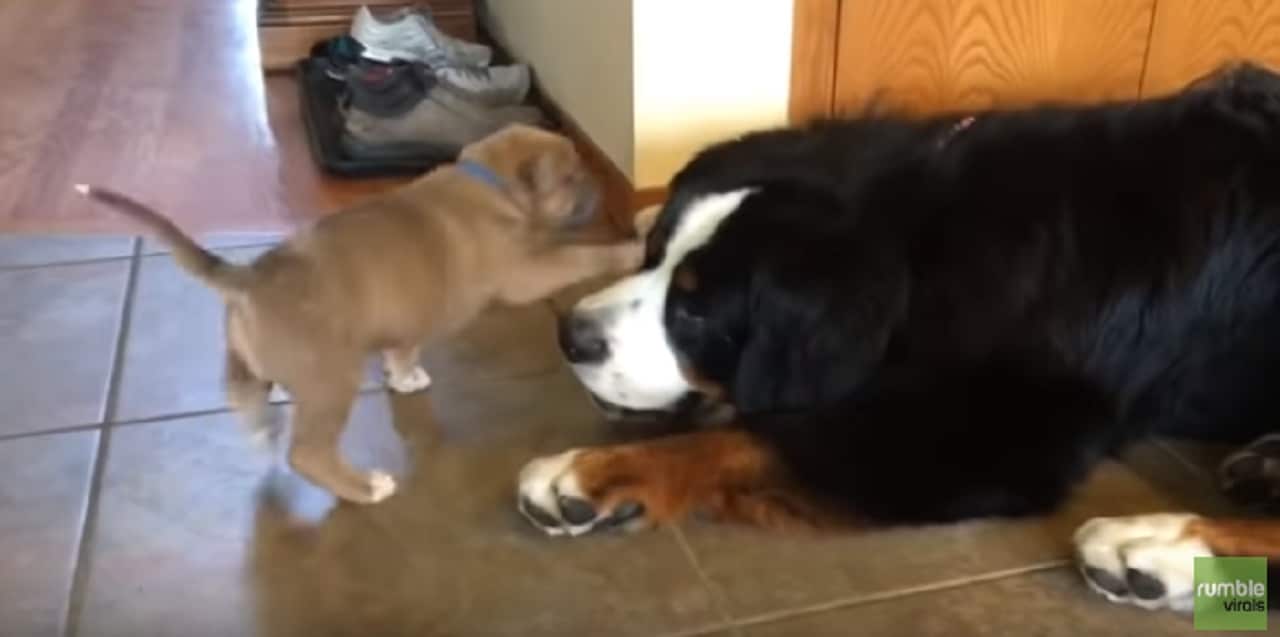 Right away, the two puppies engage into playful banter. Every jab that Gryffin throw's Eiger's way, the latter returns it right back. However, Eiger does this gently, careful not to hurt his new little brother. Eiger even allows his little brother to go around him on endless circles.
This scene inevitably melts the heart of any dog owner. Witness the adorable play time Gryffin and Eiger share in the video below.
Video Credit: Rumble Viral via YouTube
What to Do Next: Get Our FREE Cookbook for Easy and Healthy Meals and Treats for Your Dog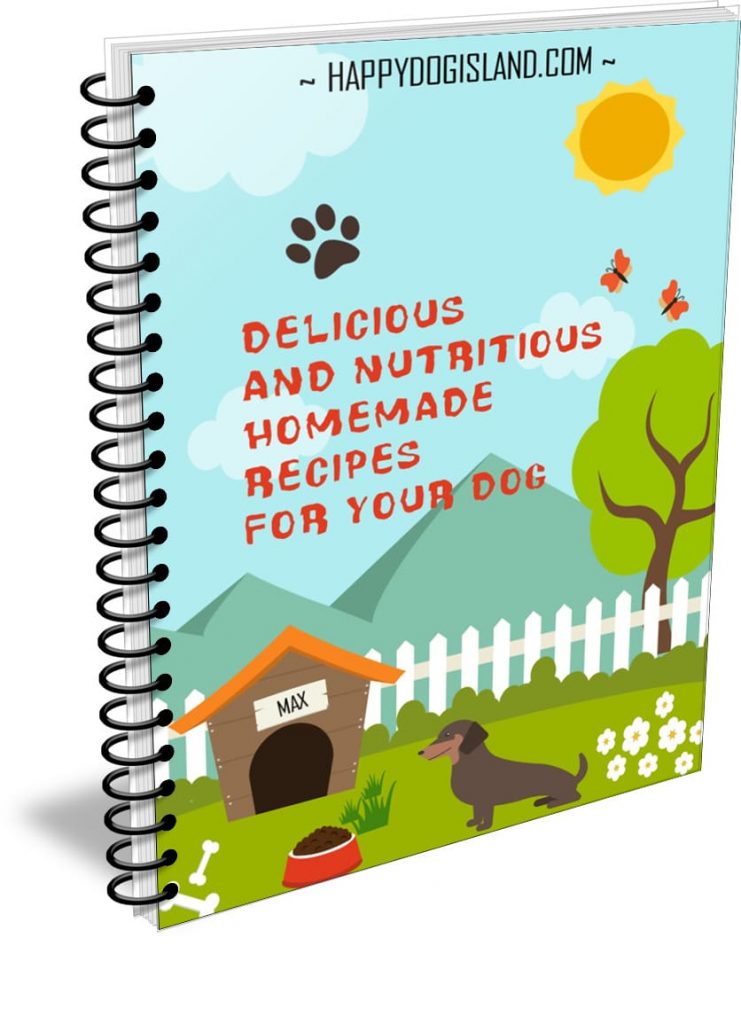 Always wanted to create nutritional meals and treats for your dog, but thought it was too complicated?
Well, the great news is it can be super simple to feed your dog quick and healthy meals from home. And don't forget the treats because every good boy (and girl) deserves those too!
Claim your free recipe book with 31 delicious recipes so good, you'll want to try them too!
Just enter your name and email address below to instantly receive your free book.