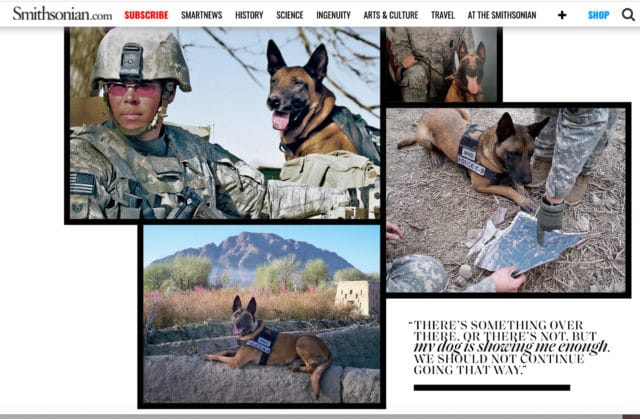 In 2011 Rebecca Frankel traveled the country doing research for the book she was writing titled "War Dogs: Tales of Canine Heroism, History, and Love." She met many dogs with combat experience and told their stories.
But only one, Dyngo, whom she met in May of 2012 won her heart.
Frankel adopted Dyngo in May of 2016. After he trashed a hotel room and a harrowing airline flight, she wondered if she'd taken on more than she could handle. The ten year old 87 pound Belgium Malinois was used to a life of action. Would he ever adjust to mundane civilian life?
History of Military Service
Dyngo had a distinguished record as a military dog.
He served three tours in Afghanistan. One of his handlers, Staff Sergeant Justin Kitts, won a bronze star due to Dyngo's bomb sniffing abilities. They spent 1,000's of hours and ultimately discovered 370 pounds of explosives. It's estimated they saved 30,000 lives.
Kitts hoped to eventually adopt the dog, but because his daughter was allergic to dogs it was impossible. When he saw how Dyngo took to Frankel he asked if she would adopt the dog when he was retired in a few years. She promised to consider the idea.
After much consideration she agreed to adopt Dyngo when he retired. She moved to a larger, dog friendly apartment in preparation.
Transition to Civilian Life
Frankel and Dyngo faced many rough days during the first few months. During the first week Frankel realized she wasn't just concerned and worried, she was actually in fear of Dyngo. She spent a night on the phone with Kitts, Dyngo's former trainer, trying to figure out how to help the dog make the adjustment.
A friend loaned her a large crate and Dyngo quickly ran into the place of safety.
Every day Frankel would take Dyngo on the longest walks she could over rough trails and hills. Her goal was to wear the energetic dog out as much as possible.
He required numerous baths due to a bacterial infection on his belly. Since Frankel could not lift him into the bathtub she'd shut the bathroom door and do her best with a washcloth and bucket. The bathroom was covered in inches of water and dog hair after each bath.
The Dyngo begin biting himself, known as flank sucking.
Frankel questioned if she was going to be able to deal with Dyngo's transition.
New Resolve
Things got so bad that Sgt. Jessie Keller, who had handled the adoption, sent Frankel a message and offered to take the dog back. Though it was tempting, Frankel confirmed her commitment and she decided she was not going to give Dyngo up.
The first few months were tough as Dyngo tried to sniff under every door in the apartment building and every tire on the street. He was still in military mode and trying to search for bombs.
His obsession with toys eventually forced Frankel to remove all toys from her home. She set up a strict schedule that they adhered to every day.
These were her thoughts…
"My new apartment hardly felt like home. Dyngo didn't feel like my dog. We weren't having adventures—no morning romps at the dog park, no Sunday afternoons on a blanket, no outside coffees with friends and their dogs. I didn't feel like a rescuer. I felt like a captor."
Frankel worried she'd stolen his identity and instead of a life of peace and comfort, he was bored out of his mind and no longer felt a sense of purpose. She worried that her love for him might not be enough but she continued on.
After Two Years
Though the road was long and full of challenges, Dyngo has finally embraced his new life. He sleeps in a dog bed instead of a crate and toys have been returned to his life. They can go on walks without fear and he's even made friends with a neighborhood cat.
Frankel is happy she stuck with Dyngo and gave him the contented retirement a war hero deserves.
Read the rest of the story here.
What to Do Next: Download Your Free "So You Think You Want to Adopt a Dog?" Kit
Adopting a dog is one of the most wonderful and rewarding things you can do, but it's not something to be entered into lightly.
Before Making This Big Decision, You need to know:
If adopting a dog is right for you (it may not be)

What type of dog is best for you or your family

What you need to be able to care for a dog
That's exactly why we've created this free downloadable kit to help you make the best decision for you or your family.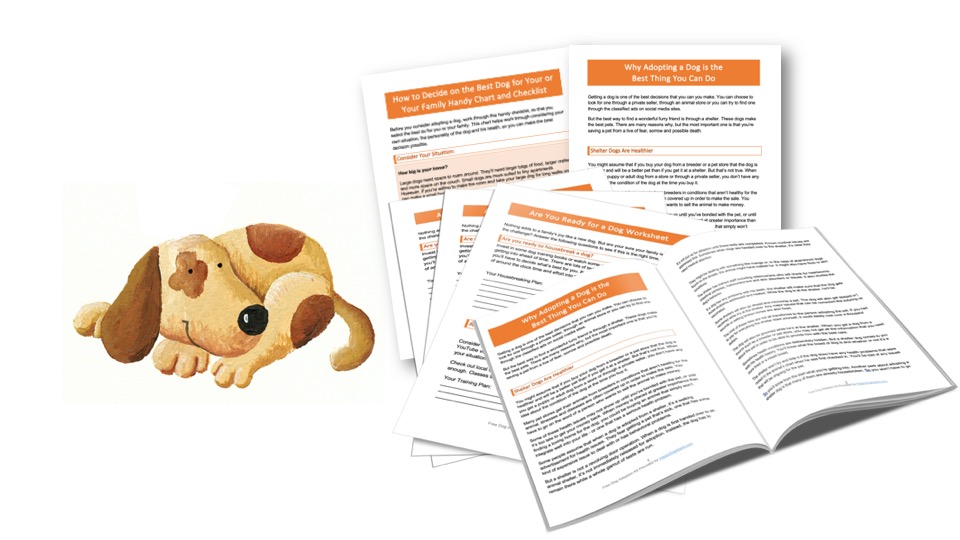 Download This Free Kit for Instant Access to:
Why Adopting a Dog is the Best Thing You Can Do - discover 10 amazing benefits of adopting a dog, instead of purchasing from a breeder.
Is a New Dog Right for You? - Use this handy worksheet to ensure you're ready to welcome a new dog into your home?
How to Decide on the Best Dog for You and Your Family - This checklist will help you figure out exactly what kind of pet is best for you.
Everything You Need to Welcome a New Dog into Your Home - Another handy checklist to ensure you're ready to welcome the newest member of your family.
You can download this kit instantly and it's absolutely free. Just enter your name and email address below.
We'll also keep you up-to-date on tips for your dog, amazing dog stories and products we'd love to share with you.