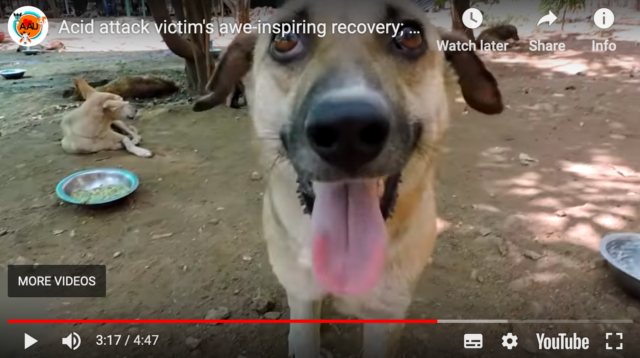 This poor dog had been nursing a large and painful wound when the Animal Aid Unlimited organization was notified of her condition and where she was staying at, and what they saw was nothing short of heartbreaking. The gaping wound on her back was as wide as a plate and she had been so badly burned that not only was the skin and fur gone, but her muscles had become exposed as well. Some neanderthal thought it would be an amusing trick to throw acid on the unsuspecting dog's back and watch her twitch and scream in pain as the chemical ate away at her flesh, and now here she was.
There was still a bright side to her predicament, however, because aside from her gaping wound, she seemed to be in a pretty stable condition and while the injury was large, it wasn't infested with maggots. She would occasionally lick a portion of her wound, particularly the part that was still red with inflammation, and it was perhaps thanks to this little remedy that she was able to keep infection at bay. Thankfully, she was friendly enough to allow her rescuers to collect her without incident and they were also careful not to accidentally poke the wound and cause her even more pain.
At the shelter, they had to clean the wound first before they started putting medicine on it to ensure that there were no traces of acid left, no matter how small. She had to be sedated to prevent her from moving around and so that they could do a thorough job of ridding her of the chemical. After that, they used an entire pack of ointment on the wound and wrapped it up in plastic, before adding the bandages to keep the medicine in and everything else, out. This process was repeated regularly for a month until her skin started showing signs of considerable improvement.
By her first month at the shelter, the wound was looking better than when they first found her. This time, they also started using honey on the wound to speed up the healing, and that was what she was named after. It took six months for Honey's wound to completely heal, and while we will never know who the sadistic culprit was, at least we can find comfort in the knowledge that she will never again suffer like that.
Source: Animal Aid Unlimited, India via YouTube
What to Do Next: Download Your Free "So You Think You Want to Adopt a Dog?" Kit
Adopting a dog is one of the most wonderful and rewarding things you can do, but it's not something to be entered into lightly.
Before Making This Big Decision, You need to know:
If adopting a dog is right for you (it may not be)

What type of dog is best for you or your family

What you need to be able to care for a dog
That's exactly why we've created this free downloadable kit to help you make the best decision for you or your family.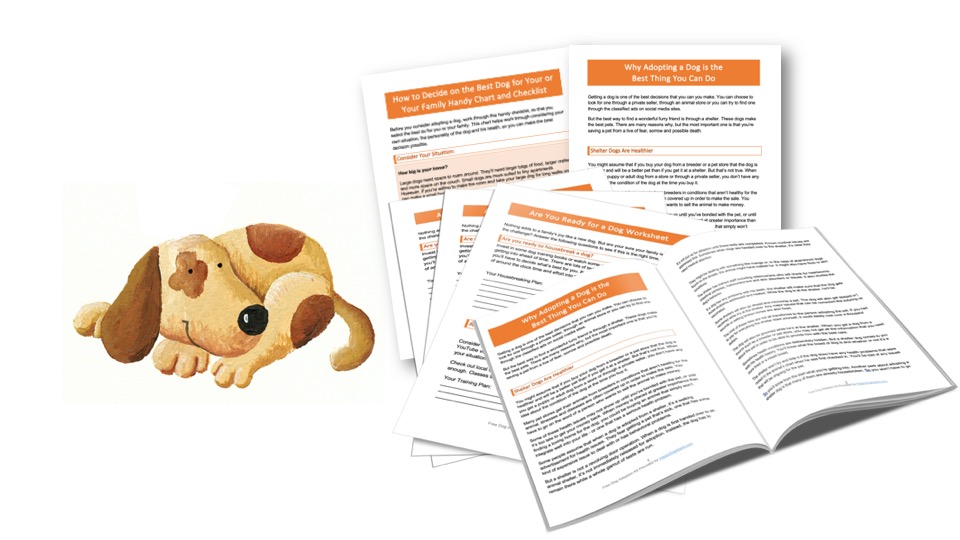 Download This Free Kit for Instant Access to:
Why Adopting a Dog is the Best Thing You Can Do - discover 10 amazing benefits of adopting a dog, instead of purchasing from a breeder.
Is a New Dog Right for You? - Use this handy worksheet to ensure you're ready to welcome a new dog into your home?
How to Decide on the Best Dog for You and Your Family - This checklist will help you figure out exactly what kind of pet is best for you.
Everything You Need to Welcome a New Dog into Your Home - Another handy checklist to ensure you're ready to welcome the newest member of your family.
You can download this kit instantly and it's absolutely free. Just enter your name and email address below.
We'll also keep you up-to-date on tips for your dog, amazing dog stories and products we'd love to share with you.