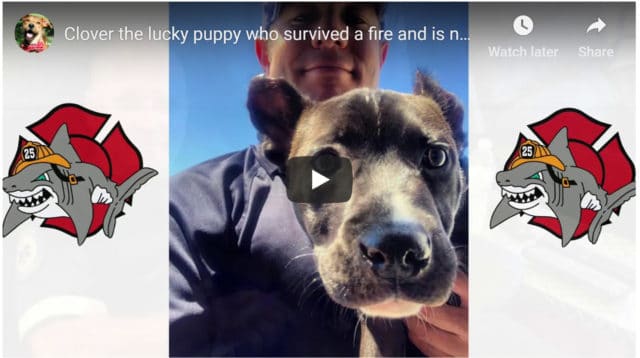 Two Fire Departments in Florida recently adopted two dogs to be their official Firehouse dogs. This is not unusual since many fire stations have dogs.
What is unusual is that Clover and Ruby are fire survivors. They both sustained serious injuries at young ages.
Clover
Clover was just a puppy, only a few weeks old, when the shed she and her mother and siblings were living in caught fire. The others all escaped but Clover was trapped in the burning building when a board fell on her.
She suffered severe burns. She was later adopted by Suncoast Animal League located in Palm Harbor, Florida. They started posting about her healing process and she won many friends. One set of fans was the Florida's Madeira Beach Fire Department (MBFD), who had already been planning to get a firehouse dog.
The moment they met Clover they knew she was the one. They adopted her and her life as a firefighter's friend and burn victim ambassador started.
Ruby
When Ruby was a few months old there was a fire at her Georgia home. Ruby escaped the flames, but her owner did not. The pit bull mix suffered third degree burns from her run through the flames.
Meanwhile, the Florida's Palm Harbor Fire Rescue (PHFR), had heard about Clover being adopted by the MBFD. Not to be outdone, they decided they wanted their own firehouse dog. Ruby turned out to be just the dog they needed.
Ruby and Clover at Work
Despite their health challenges, Ruby and Clover don't lie around the firehouse taking it easy. They help with fire safety presentations at local schools. They also go with the firefighters to help encourage other burn victims and let them know they're not alone. They attend camps for young burn survivors.
But when they are around the firehouse, they help stressed out firefighters by offering unconditional love and friendship. No matter what happens during the day the dogs are always positive and help lift the spirits of their co-workers.
Firefighter-paramedic John Sleppy says, "In our line of work, we see things and do things that a lot of people don't see in their entire lives, and sometimes that can affect you," Sleppy told FOX 13. "It's nice to come back to the station, where it's more like a home now where your dog's always got a smile and wants to lick you."
What to Do Next: Download Your Free "So You Think You Want to Adopt a Dog?" Kit
Adopting a dog is one of the most wonderful and rewarding things you can do, but it's not something to be entered into lightly.
Before Making This Big Decision, You need to know:
If adopting a dog is right for you (it may not be)

What type of dog is best for you or your family

What you need to be able to care for a dog
That's exactly why we've created this free downloadable kit to help you make the best decision for you or your family.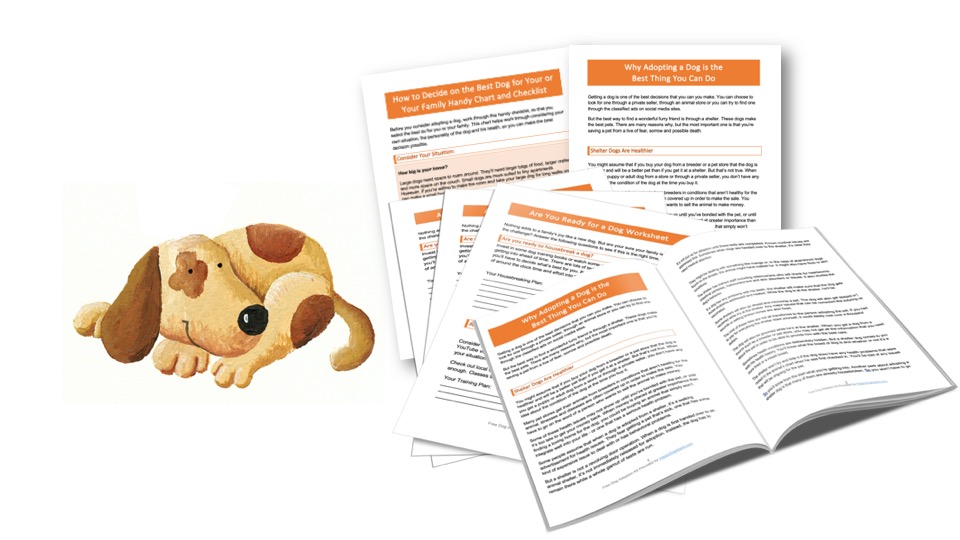 Download This Free Kit for Instant Access to:
Why Adopting a Dog is the Best Thing You Can Do - discover 10 amazing benefits of adopting a dog, instead of purchasing from a breeder.
Is a New Dog Right for You? - Use this handy worksheet to ensure you're ready to welcome a new dog into your home?
How to Decide on the Best Dog for You and Your Family - This checklist will help you figure out exactly what kind of pet is best for you.
Everything You Need to Welcome a New Dog into Your Home - Another handy checklist to ensure you're ready to welcome the newest member of your family.
You can download this kit instantly and it's absolutely free. Just enter your name and email address below.
We'll also keep you up-to-date on tips for your dog, amazing dog stories and products we'd love to share with you.